What to see in Erfoud, Gateway to the Sahara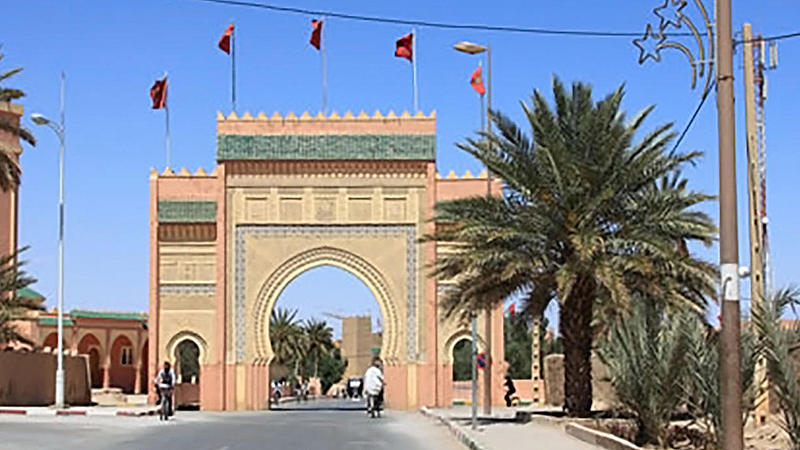 Land of fossils
Maadid is the biggest ksar in southern Morocco. A ksar or kasbah is an ancient fortified town or castle. You can wander through its small streets and visit the nearby oases. It has high walls and a monumental gate.
Erfoud is known for its precious, unique fossils. About 500 million years ago, the Sahara Desert was submerged under water producing the many fossils hidden in its dunes. On the outskirts of Erfoud you can visit impressive fossil workshops and discover unique specimens. You can find ammonites, nautiloids, crinoids, trilobites, etc. There are also remains of fishes, crocodiles and even dinosaurs.
Erfoud is known as the Gateway to the Sahara as it's very close to the Erg Chebbi dunes.
Tourist attractions
Its surroundings offer spectacular arid scenery where green oases blend with a rocky landscape against a backdrop of rocky mountains. The scene resembles Mars, creating scientific interest in the area, which is used for research. This arid ecosystem has been used to film Hollywood blockbusters such as Prince of Persia (2010) and The Mummy (1999).
It was founded within the French Protectorate as a military fort. The garrison was set up to control the region, and in fact, its inhabitants confronted the army several times. Two small forts from this era remain, which overlook the town from a pair of hills, Borj-Est and Borj-Sud, offering superb views of the palm grove.
It is the administrative centre of the Errachidia province, and a leading tourist hub, serving as a starting point for trips to the desert, which is why it's teeming with top-quality hotels.
There are also plenty of services such as garages, petrol stations, etc. required by off-road vehicles that drive along its sandy roads.
Getting to Erfoud
There are two major motorways that go to Erfoud. The R702 links Erfoud to Jorf Lasfar, Tinejdad, Tinghir and Ouarzazate. This route enters the desert and goes to the Erg Chebbi dunes. The N13 links Errachidia to Erfoud, Rissani, and goes onto Merzouga in the south.
Distances (via motorway) from Erfoud to other destinations in Morocco:
Erfoud to Merzouga: 55 kilometres
Erfoud to Ouarzazate: 315 kilometres
Erfoud to Tangier: 665 kilometres
Erfoud to Rabat: 590 kilometres
If traveling by public transport, there are buses departing to Erfoud from the east (via Marrakesh, Ouarzazate, Boumalne Dades and Tinghir) and north (via Errachidia, Meknès and Fez). Supratours runs daily buses.
What to see in Erfoud
Royal Palace
The only Moroccan royal palace in the Sahara Desert. Although you can't go inside, it is worth stopping by to admire the outside and its lit-up gate in the evening.
Maadi Kasbah
Maadid is the biggest ksar in southern Morocco. A ksar or kasbah is an ancient fortified town or castle. You can wander through its small streets and visit the nearby oases. It has high walls and a monumental gate.
Borj Est
This hill overlooks Erfoud and has an old military barracks. It is the perfect place to enjoy the sunset over Erfoud, taking in the river, the town and the surrounding mountains and dunes. A truly magical setting.
Land Art structures
These peculiar structures are about 25 kilometres away. The most famous ones are the Golden Spiral, the Stairway to Heaven and the City of Orion. They are contemporary art structures made with local materials and designed by the German Hannsjönrg Voth.
Rissani
An important oasis town in the middle of Tafilalet, 17 kilometres south of Erfoud. It is the ancient city of Sijilmassa, which was one of the bases of the ancient caravans that crossed the Sahara to Timbuktu. It is also the birthplace of the current Alaouite dynasty.
Shopping
Erfoud has an important souk where, in addition to food, there are local craft stalls which sell ceramics, rugs, textiles, blankets and silver jewellery with semiprecious stones.
As we have mentioned, fossils are typical of the area, and you can find many varieties as well as quality minerals. In addition, a large selection of aromatic and medicinal plants are sold, which can be found in the traditional herbal shops and which are regularly used to flavour local dishes.
Local fruits are of high quality, especially the delicious local dates. In fact, the Festival of Dates is held every October, with numerous events full of colour and Berber tradition being held.